Este año estaba prevista la celebración de las VIII Jornadas de SECEMU en Murcia organizadas por ANSE. Pero, debido a la situación actual de pandemia, desde SECEMU se decidió posponerlas para el año próximo. Por ello, hoy, sábado 28 de noviembre, se ha celebrado vía telemática la XXXII Asamblea General Extraordinaria de SECEMU 2020. Una asamblea muy productiva al ser online donde nos hemos juntado 39 participantes de diferentes lugares de España (Andalucía, Asturias, Cantabria, Castilla La Mancha, Castilla y León, Cataluña, Comunidad Valenciana, Islas Baleares, Galicia, La Rioja, Madrid, Murcia y Navarra) y Portugal para tratar diversos aspectos a cerca de la conservación, investigación y divulgación de los murciélagos en el territorio de España, Portugal, Andorra y Gibraltar.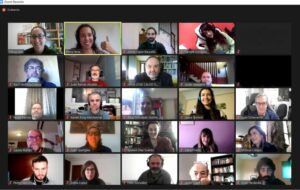 Como en otros años, se han aprobado las actas de la Asamblea anterior, en este caso celebrada el 30 de noviembre de 2019 en Zaragoza. Posteriormente, nuestro presidente Juan Tomás ha comentado el informe de actividades desarrolladas por la Junta Directiva y la tesorería ha desarrollado el balance económico del año, actualmente con 191 socios activos en la asociación. También las comisiones han informado acerca de las acciones realizadas durante el presente año (conservación, anillamiento, bibliografía, revista, divulgación, página web y redes sociales, sanidad, internacional, eólicos…).
Por parte de la comisión de la web, pudimos presentar el resumen anual con la consulta de más de 121.000 usuarios, casi duplicando las cifras frente al año anterior. Como era de esperar, este año debido al coronavirus, ha habido una mayor afluencia de visitas a nuestra web, con un pico máximo de páginas visitadas durante el confinamiento. Desde la web queremos agradecer a la comisión de sanidad, Juan Emilio Echevarría, y a Javier Juste, por su labor en la divulgación y participación en medios de prensa, informando de manera crítica y científica sobre la relación de los murciélagos y el coronavirus. Aquí podéis consultar algunos de los enlaces:
También queremos agradecer a Clara Prieto y Sandra Córdoba por la realización de la campaña divulgativa #DontBlameBats, no culpes a los murciélagos:
Además, se propusieron las actividades generales a desarrollar en el próximo año. Entre ellas, destaca el 10º Aniversario de nuestra revista Journal of Bat Research and Conservation y retomar la celebración de las VIII Jornadas de SECEMU en Murcia el 5 y 6 de diciembre del 2021, de la mano de la asociación ANSE.
Desde aquí, agradecer a todos los socios su labor en SECEMU y especialmente, a la Junta Directiva por la organización de la asamblea.
¡Esperamos poder vernos presencialmente todos en las VIII Jornadas de SECEMU en Murcia!